Email: natureswayentertainment@gmail.com

Twitter : @natureswayent1
instagram : NaturesWayEntertainment
Tracklist:
Busy Signal - You and Me
Chris Martin - Change Me Plans
Mr. Melody - Still In Love
Jah Mason - Be With You
Alva - I've Made My Choice
Ginjah - Feel Love
Chevaughn - Let Love
King Mas - Ocean of Emotion
I Noah - Misunderstanding
Jhamiela Smith - No More
Wayne Wonder - Never Gonna Say Goodbye
Zamunda - Tell Me
CD TRACK LISTING
1 - Anthony B - Mahmah Warrior....
2 - Khago - Picture
3 - King Mas - Good Bye....
4 - Jah Mason - Trouble On Your Shoulder
5 - Exco Levi - Wedding Day....
6 - Tammy T - Don't Break My Heart
7 - Wayne Wonder - Gift To My Life....
8 - Donnee - Rise
9 - Alva & Zamunda - Gonna Be Blood....
10 - King Mas - Peace & Love
11 - Alva - Life Get Easier....
12 - Mr Melody - How Can I
13 - Johnny Cool - Fighting....
14 - Ryo Vibes - Rise
15 - Ras Demo - I Wanna Dance
REGGAE HITS VOL 1
Even though he enjoyed strong feedback to his Sweet Personality rhythm five years ago, producer Garfield Cowan believed he could improve on some of the songs featured on it. Those, and more, can be heard on Reggae Hits Vol 1, released last Friday by his Nature's Way Entertainment label.Sweet Personality was spurred by Wayne Wonder's Let Me Love You Tonight and Wake Up, a big hit for Jah Cure. Songs from Richie Spice, Lutan Fyah and Alva, a longt-ime member of the Nature's Way camp, were also released on the Sweet Personality. There are fresh takes on Let Me Love You Tonight and Wake Up on the new compilation. "I did over some of the songs because I see there was room for improvement in the production and to give the songs a longer life," Cowan explained. The tweaks are not limited to the Sweet Personality tracks. Others, like Alva's St Ann We Come From, which was recorded when Cowan kicked off his career as a producer eight years ago, also get a facelift. Cowan said his growth in production influenced his decision to revisit these songs. "I was not pleased with the original sound. As I grew more in music and produced more I saw that I had to raise the bar and the level of production....read full story in the Jamaican Observer... http://www.jamaicaobserver.com/entertainment/nature-8217-s-way-goes-back-to-basics_126270?profile=1116
Contact:
954-243-6198
or 786-973-3585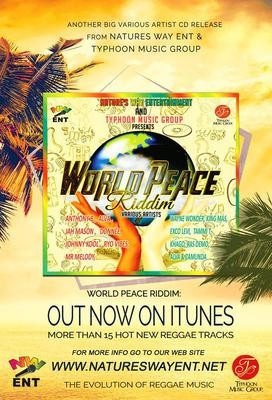 To Buy TREE OF LIFE EP
Click on the artwork above
Your No. 1 Site For Authentic Reggae Music

Natures Way Entertainment

You can

NOW

buy

- GINJAH'S Hot New Album
Click on

our Store tab

above.